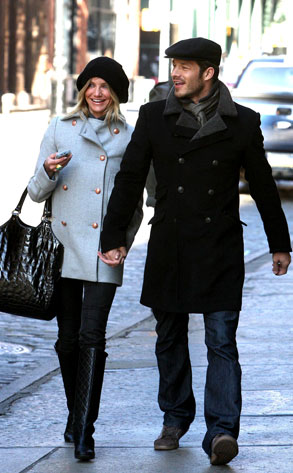 Cameron Diaz and British model Paul Sculfor – who have been dating each other for the past nine months – have finally decided to tie the knot in the English countryside this year. The 'There's Something About Mary' star is planning a "big white wedding" in the UK.
Both, Cameron Diaz and her boyfriend have reportedly been combing the English countryside for a perfect place to get married.
A source said, "The couple is looking at big country estates with chapels within the grounds.
They plan to hire out an entire hotel for their family and friends, and throw a massive party. They want to get married in the UK, but will continue to live in Los Angeles."
The sexy blonde actress – who is also famous for her role in 'Charlie's Angels' as one of the angels- wants to get marries as soon as possible and have children.
The source also said, "Cameron wants a big white wedding with the full works. She's even in talks with Karl Lagerfield to design a Chanel couture wedding dress for her.
Paul and Cameron are so happy together and have talked about getting married this summer or early autumn, and then having kids immediately. It's the real deal and they're absolutely crazy about each other."
The 36-year-old actress has sacrificed her usual adventure holidays and is putting in all her time planning for the upcoming nuptials.
The couple reportedly spent a romantic weekend inspecting Babington House in Somerset, south west England, and are also considering Gosfield Hall or Leez Priory in Essex, Clearwell Castle near Bristol and Chatsworth House in Derbyshire as possible venues for the wedding.
Read also